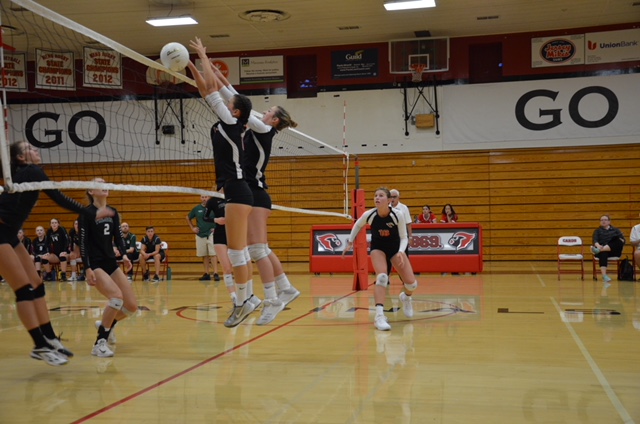 Photo Courtesy of Louis and Andrea Vintro
In Lincoln's sesquicentennial year, the volleyball, football, cross country and water polo teams are hoping to add to the celebration this upcoming season.
Consecutive reigning PIL champions, the volleyball team has its eyes on claiming the league once again. Led by senior and University of Portland commit Grace Zilbert, the team is planning on last year's playoff success to carry over this year.
"We're thrilled to work towards winning league and attempt to go farther in state this year," said Zilbert.
Under head coach Stephen Stone, be on the lookout for another big year from volleyball.
************
Boys water polo is also aiming high.
"We hope to make it to the playoffs and state, from there we'll see what happens," said Sam Guy, a senior and returning varsity athlete.
The team won its first league game versus Aloha 11-3 and is off to a strong start.
***********
Girls water polo has also set their sights on victory. "We're trying to get first in state, we're going to be first in Metro League," says senior Natalie Brauser.
While the team lost 8 players this year, they have three strong returning senior players: Lilly Graham, Mia Tovar and Brauser. Team leaders believe their biggest competition will be Newberg High School.
*************
Cardinal cross country competitors are consistently among the elite runners in the state. Last year several seniors departed from the boys team, leaving the team to a number of
underclassmen.
"This year, they will claw and fight and struggle," says co-head coach Suzanne Parry, currently in her 15th year of coaching.
Despite graduating a number of their most experienced runners, 6 year co-head coach Eric Dettman doesn't see it negatively.
"From a talent level, it is there," says Dettman. "They get out there and attack, which isn't something you can really coach."
The girls cross country team continues to be strong.
"If they work hard and dedicate themselves, the girls' team is at a place to place very high in state… they're in contention to be the best team," says Dettman.