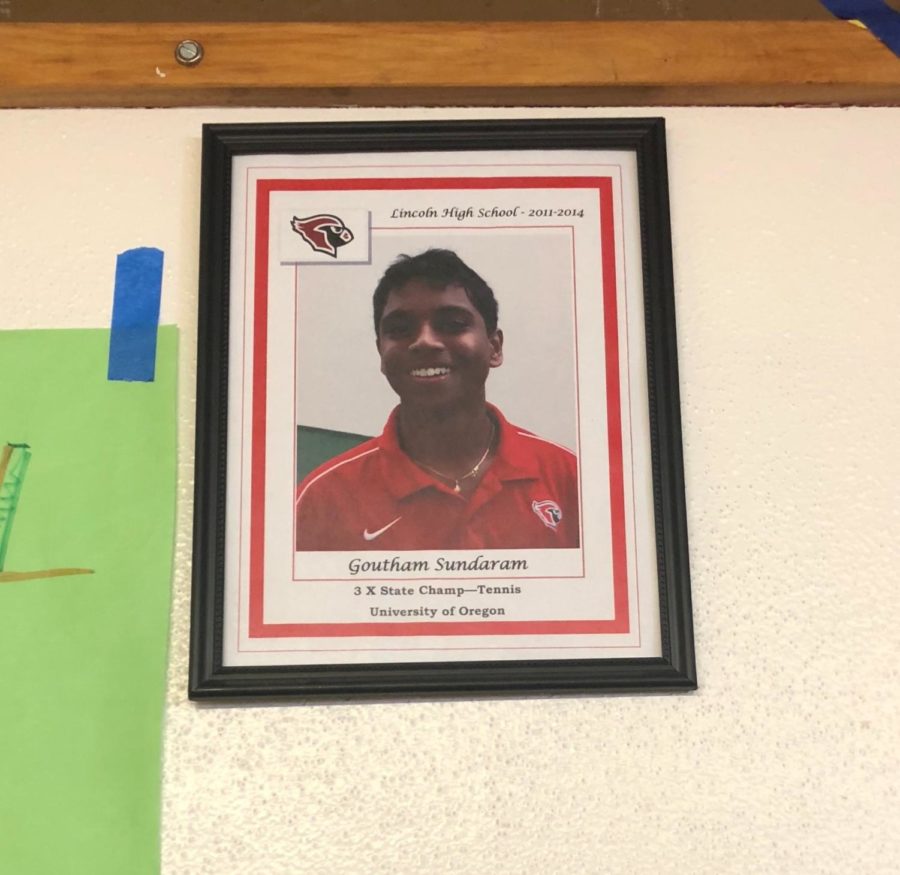 Jamie Bikales
Update: Sundaram's plaque has been taken down as of May 10.
A plaque above the doors to the gym celebrating an esteemed former Lincoln tennis player, who captured three state championships representing the school, is the subject of controversy due to a speech he gave at the University of Portland on April 15.
Goutham Sundaram graduated from Lincoln in 2014 and is currently attending UP. He was emcee at an athletics awards banquet, where he gave a speech about his sexual pursuits, according to UP's student newspaper, The Beacon.
Sundaram reportedly discussed his goals of sleeping with more white women, and how his teammates "have had more luck in engaging in sexual intercourse than he has," according to The Beacon. He spoke "violent words against women and the perpetuat[ed] rape culture."
Even after some attendees walked out over the speech, Sundaram, whose parents immigrated from India, continued his racially tinged remarks, saying, "Gandhi didn't fast for twenty days so that I could get to America and not sleep with white women."
The speech made international headlines, with articles in the Washington Post and the Daily Mail.
The next day, Sundaram was removed from the Pilots tennis team and issued an apology, according to the Oregonian. Later that week, he apologized further for his "grossly inappropriate" remarks.
University President Father Mark Poorman, who attended the banquet, said in a statement the next day, "Along with many others, I am appalled by the student's actions." He issued another statement Tuesday, saying "The comments that night were offensive — to women, men of color, women of color, to all members of our community who believe in dignity and respect for all individuals."
Sundaram was a celebrated student while he attended Lincoln, according to those who knew him. The state singles champion for three consecutive years, he also was a full IB student.
"I am saddened to hear this news because he was an amazing scholar-athlete when he was here, beyond respectful," said principal Peyton Chapman, who was also principal when Sundaram attended. "I hope he gets the support he needs, and the UP community can heal."
Former Lincoln students who played on the tennis team with Sundaram agreed that he never demonstrated similar behavior.
"He was just a quiet shy and really humble dude," said Ethan Kizziar, who was on the Lincoln team with Sundaram. "When we had our annual banquet with the girls team, he was always normal and engaged."
"I remember him as one of the nicest, outgoing [people] in high school tennis," said another former teammate who requested to remain anonymous. "He respected people on and off the court, so many people liked him as a player and as a person."
"I hope he learns from his mistake and move on," the teammate said.
Sundaram was honored with a framed photo in Lincoln's hall of fame, placed just above the doors to the gym. Now, controversy roils around that plaque.
Athletic Director Jessica Russell and Principal Peyton Chapman said they were still considering what to do. They are meeting with PPS officials this week to discuss the matter.
When contacted by the Cardinal Times, the PPS athletics office referred questions back to the Lincoln administration.
There are no policies or guidelines in place that describe the need to take a plaque down of someone because of their bad actions later in life, Chapman said. Lincoln has many other plaques in addition to athletes, including Lincoln principals since 1869, Rose Princesses going back to 1930 and a commemoration of Indie musician Elliott Smith, who graduated from Lincoln in 1987 and died in 2003.
"There should be [a] formal review process before making a decision. We may need to look to other school districts for a model if PPS doesn't have one," Chapman said. "While at Lincoln, Goutham was a model scholar athlete. That's the history that is connected to our school. We don't want to erase that history, but we also want the photos on our walls to represent the values of our school."
She continued, "We need to balance respect for the student's work while a student at Lincoln with a duty to protect current students and visitors from any harm or negative influence any images in our hallways might have."