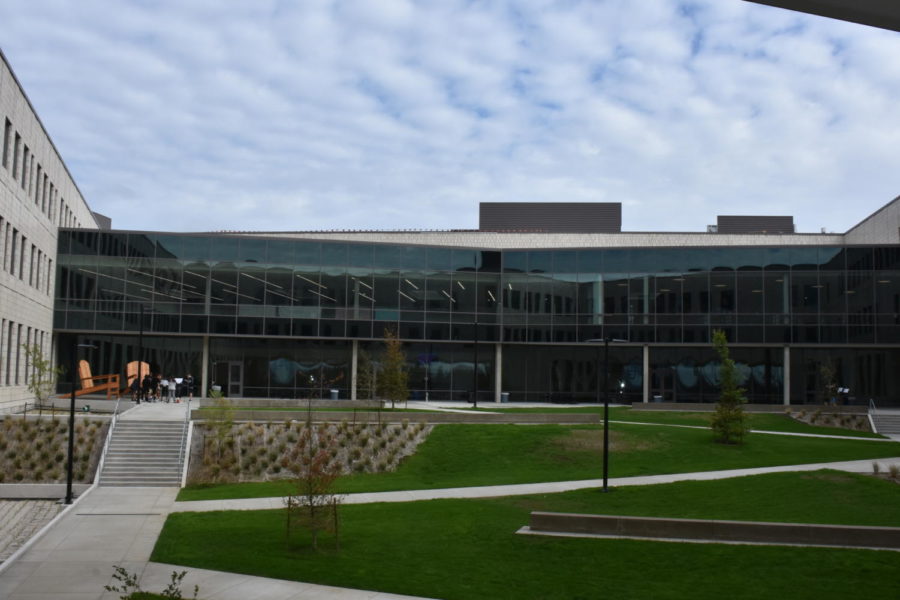 Kayla Rae
MOUNTAINSIDE HIGH SCHOOL – Mountainside High School is a brand new building in the Beaverton School District, which just opened this Fall to students. The school is four stories, covering 300,000 square feet and took $185 million dollars to build. It's equipped with an elevator, recording studio, woodshop, four turf fields, a workout room, dance studio, theater, a basketball court surrounded with bleachers and an additional court for other sports.
The Cardinal Times was recently given the opportunity to tour the new school and look for aspects that could be integrated into the new Lincoln. Mountainside is built on 300,000 square feet, which is different than Lincoln's urban setting. Lincoln's new building won't be able to accommodate every feature that Mountainside has. Although, Lincoln's new building could potentially have would be in the building itself, such as space for dance, woodshop, a larger cafeteria and recording studio.
The school currently only has a freshman class of about 500, and a sophomore class of about 400.
"We're the first graduating class" says Nina, a sophomore at Mountainside. "We're building as we go up. There's so many people in each class, that the school doesn't even feel empty."
"Since the boundary changed, some people had to go to Mountainside. Others had the option to chose between the school they were at, and transferring to Mountainside," says Nina. She went to Beaverton but she "chose to go to Mountainside because it's a huge opportunity and not many people can come to the school."
Jasmine A., another sophomore at Mountainside, said the school was so large, that she "Had to walk around a couple of times just to get the hang of where everything is."
When Mountainside students were asked the same question as Lincoln students: "What is one word that comes to mind when you think of the Mountainside building?" students Nina and Jasmine A. responded "beautiful" and "classy."
Principal of Mountainside, Todd Corsetti, said his favorite part of the building is "the natural light and open concept. Almost every classroom has a lot of natural light."
With all the new features, students at Mountainside are given many opportunities that students of other schools don't have.
Corsetti states that "Mountainside has some incredible Career and Technical Education (CTE) programs like Culinary, Construction, and Engineering." Also, "Our athletic facilities are second to none."
Along with Lincoln, Mountainside "will be an Middle Years Program (MYP) school so that we can articulate students into the IB program their junior and senior year," when it gets to be that time.
Overall, Corsetti is most excited about "Building traditions and culture with the staff and student body."
Some of Mountainside's features could be integrated into a new Lincoln. Students will be involved in the planning process, making inspiration from other new high schools all the more important.
Students Raja Moreno and Kendall Accetta of SHOVELS, a political action committee to improve education in Portland Public Schools, are flying to Finland in Spring 2018 in relation to Lincoln being rebuilt.
"The Finnish public education system is very modern and 21st Century. They serve as a good model for how we want to build our own school," Moreno explains.
"We're looking to learn about how the Finnish integrate structure and function for schools and looking at best practices for education in schools. We're looking at both education and structure," he concludes.
Take a look at our photos of Mountainside and join the discussion on our social media pages and website. The Cardinal Times will keep the community informed throughout the planning process as opportunities for outside input arise.