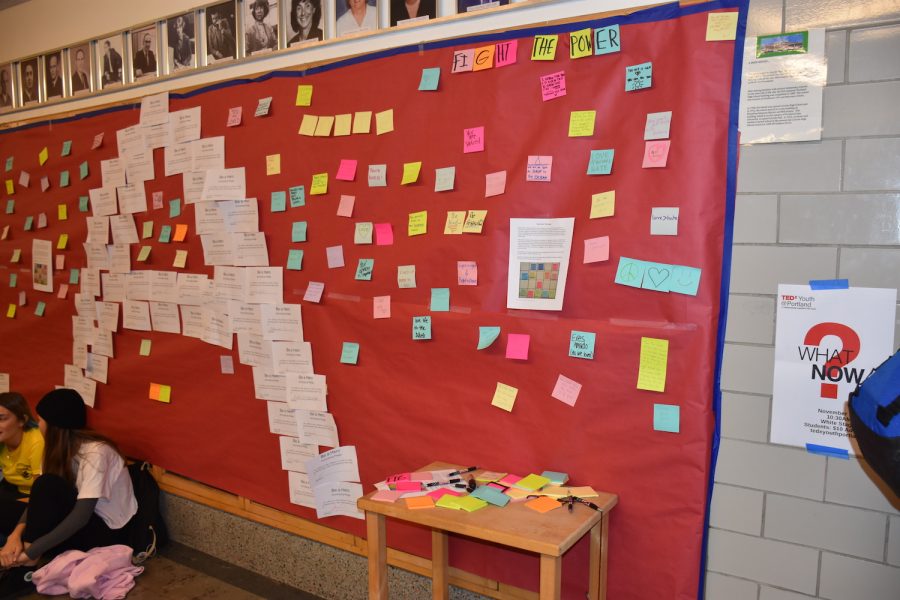 Jamie Bikales
Politics dominated the talk throughout the halls and classrooms of Lincoln Monday, the first day back in classes since the election of Donald Trump.
Fear was a common theme for many students and teachers who felt that the derogatory and divisive language used throughout Trump's campaign could make his supporters believe that violence against certain groups was acceptable.
Already since the election in Oregon, Lake Oswego and Silverton High School have seen white power mantras and hate speech against minority groups. Worries that this might spread to Lincoln seemed to be confirmed Monday morning as math teacher Aisha Beck reported hearing a student yell "white power" outside her classroom. Though the student called it a joke, Beck believed many people may not have viewed it that way.
Some seniors also decided to don Trump hats and shirts to school Monday.
However, these incidents seemed to be outliers in a largely peaceful day with plenty of civil discourse regarding the result throughout classes from math to Government. In such a Democratic-leaning school as Lincoln, those who supported Trump were perhaps more the targets of hatred than those who were worried.
Still, many students remain scared of what could happen to them and their families throughout the next four years. It was to show support for these students that leadership classes organized a "Cover with Love" campaign in the main hallway. A table with sticky notes and pens was left out so students could place positive messages on the walls. Several hundred notes were stuck up by the end of the day Monday.
"In these turbulent times, we must never forget our shared humanity," organizers said in a statement.
A few Lincoln students chose to participate in a walkout organized by students from other Portland area schools, primarily Benson and MLC. These students wound through Pioneer Square, by City Hall and around the Eastside.
This walkout failed to gain anywhere near the following of the September walkout to protest the delay of the school rebuild bond. Students who led the September protest, as well as administrators, urged Lincoln students not to participate in Monday's walkout, which followed five nights of sometimes violent protests throughout Portland.
"We encourage students to express themselves through respectful discussions, research, testimony, lobbying, petitions, and other means of civic involvement," principal Peyton Chapman wrote in an email.